History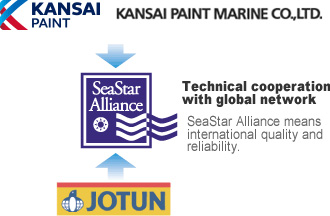 Kansai Paint Marine started in October 2001 as a joint venture between Kansai Paint's ship paint business and BASF Coatings Japan (Former NOF Corporation BASF Coatings). In April 2002, we signed an alliance agreement with SeaStar Alliance, a Norwegian ship paint maker, which has a worldwide network in April 2002, and has established an international product supply system. On April 1, 2007, Kansai Paint Transition to a company with 100% capital, and on January 1, 2017 the company name was changed to Kansai Paint Marine Co., Ltd.

Kansai Paint Marine utilizes NOF's advanced anti-fouling paint technique for ship bottoms as well as Kansai Paint's anti-corrosion technique to supply top quality products to the world. Through our cooperation with Jotun we aim to provide our top quality products and our services, not only in Japan, but also to the rest of the world.

Our high quality environmentally friendly product TAKATA QUANTUM for ship bottoms not only gives a long lasting anti-fouling result, but also brings down fuel consumption substantially. In that way, it minimizes CO2 emission and helps preserve our planet's limited energy resources.

At Kansai Paint Marine we do not only prioritize developing highly advanced products. We also put great importance on leaving behind an environment that coming generations will want to live in.